Greetings from Dean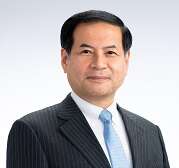 Respecting "change" and "diversity" for the future and sharing information on "Innovative Therapeutics" with the world, Chiba University's Graduate School of Medicine and School of Medicine carry these philosophies into action.
Our schools, which foster the development of innovative therapeutics, also nurture physicians and researchers who will lead Japan and the world in medical sciences and treatments and who are compassionate toward the community.
Chiba University's Graduate School of Medicine and School of Medicine have produced numerous high-caliber physicians over the course of their more than 140-year history. Even now, the schools continue to lead Japan and the world in the development of treatments and in studies conducted in various medical fields. Above all, "Innovative Therapeutics" forms the schools' central pillar, in which we elucidate the theoretical basis of treatments and systematically research and develop innovative therapies based on the knowledge gained. Our schools have moved to the Research Building of Medical Science, which was newly completed in April 2021, from the former Building of School of Medicine, which was inaugurated in 1937. We thus renew our determination to advance further toward the new epoch. I was also appointed to the position of Dean of Chiba University's Graduate School of Medicine and School of Medicine in April 2021. I earnestly wish to take a fresh step forward toward further prosperity, together with all of you.
Let us achieve your lofty aspiration to become a physician and researcher who will lead Japan and the world in the School of Medicine, where the fundamental policy is to "cultivate excellent physicians and researchers." An important step toward your goal is the strong desire to help the patients in front of you. We take pride in accepting those who have passionate and fervent aspirations to lead Japan and the world toward these goals. The notion that medical care is for the patients in front of you and that education and research are for future patients is indispensable for the advancement of medical sciences and treatments. We are committed to embracing these responsibilities, developing logical arguments, and educating physicians and researchers who will meet the needs of our diversifying society.
Our purpose is to seamlessly cultivate global leaders and prepare them to become best-in-class in their respective fields, by adjusting to social changes and diversity. To this end, we will enhance our schools' education and research systems.
We will encourage undergraduate students to practice active and positive logical thinking and to develop an ethical outlook, so that they develop an awareness for supporting cutting-edge medical care as student doctors. We will also train graduate students to enhance their ability to disseminate information to the world. To these ends, we will support their thesis preparation and oral presentations at international conferences in tandem with the Chiba University's global leader development body, "ENGINE", involving young faculty members.
In addition to strengthening the integration and collaboration of fundamental and clinical research within the schools, we are jointly developing systems and seeds with the University Hospital and Faculty of Pharmaceutical Sciences and Graduate School of Pharmaceutical Sciences. We are also collaborating with Center for Frontier Medical Engineering, Graduate School of Science, Graduate School of Engineering, Graduate School of Horticulture, and other schools and centers outside the Inohana Campus and actively participating in researchers' networks outside the university to fortify our research networks.
We look forward to seeing the graduates of our schools play an active role as leaders in various parts of the world.